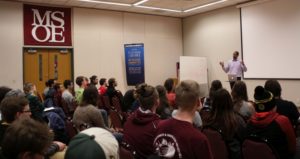 Each Thursday from 7 pm till 8:15 we come together as a large group community to learn, grow, and worship together through prayer, worship, and presentations from various speakers. Most weeks we meet in the MPR (Multi-Purpose Room) which is on the 3rd floor of the CC (campus center) near the campus bookstore.

Miss a Fusion? Want to share one of our great talks with others?
No problem! Scroll through our available talks below.
2018-2019 Fusions
03/07/19 1 Timothy 4 with Rhea Briscoe
02/14/19 Esther 9-10 with James Kern, MSOE alumni
02/07/19  Esther 7-8 with Pete Millar, IV Staff
01/31/19 Esther 4-6 with Nikky Weise, MSOE student
01/24/19 Esther 1 – 3 with Pastor Christy Fehlen
1/17/19 Intentional in an Accidental World with Pastor Todd Pope
12/13/18 Rich's to Rags, the greatest story ever told with Pastor Steve Sonderman
12/6/18 Joy and Happiness with Pastor Stuart Briscoe
11/8/2018 Choosing Continual Forgiveness with Jennifer Loop
11/1/2018 Cultural Sins with Pastor Dave Briscoe
10/11/18 Ecclesiastes 3:15-33 with Josh Hummel, MSOE IV alumnus
10/4/2018 Ecclesiastes 3:9-14  Working so Hard but for What with Tina Yolo, MSOE IV alumna
9/27/2018 Ecclesiastes 3:4-8  What time is it? with Pastor Jason Esposito (video here)
9/20/2018 Ecclesiastes 3:1-3 Reminders with Pastor Dan Hummel
2017-2018 Fusions
3/8/18 Out of Context Verses: Principles of Interpreting the Bible with Pastor John Ramer
2/15/18 Cross-Cultural Evangelism with Pastor Marques Jones
2/1/18 The Prodigal Son with Jaime Brunner, MSOE IV Staff
1/18/18 Facing the Giants with Dr. Shanthini Baskaran
1/11/18 Mission with Mark Anderson, MSOE IV alumnus and former IFES staff
12/7/17 Biblical Marriage with Pastor Stuart Briscoe
11/30/17 Waiting, Dating, and Mating with Pastor Frank Gill
9/14/17 Together is Better than Alone with Pastor Steve Sonderman
Classic Fusions
3/20/2014 Dating and Purity 1 Tim 4:13 with Pastor Dave Briscoe
5/1/2014 Vocation with Rev Scott Seefeldt
9/18/2014 God: Glory/majesty/awesome/Holy with Pastor Stuart Briscoe
9/25/2014 God: Love with Jill Briscoe